EXPERTISE AND KNOW HOW TOGETHER WITH TALENT AND RESEARCH HAVE GIVEN BIRTH TO A UNIQUE MACHINE: THE "S1M".
THE S1M IS BASED ON A SOLID TECHNOLOGY AND GUARANTEES HIGH EFFICIENCY AND PERFORMANCES THANKS TO NEW AND PATENTED INNOVATIONS. IT REPRESENTS THE EVOLUTION OF THE TRADITIONAL CIRCULAR MACHINE; THE TRUE ARGYLE GIVES THE POSSIBILITY TO CREATE A SEAMLESS UPPER, WITH POSSIBLE DIFFERENT AREAS ACCORDING TO THE TYPE OF YARN OR TO THE COLOUR, READY FOR THE APPLICATION OF THE OUTSOLE.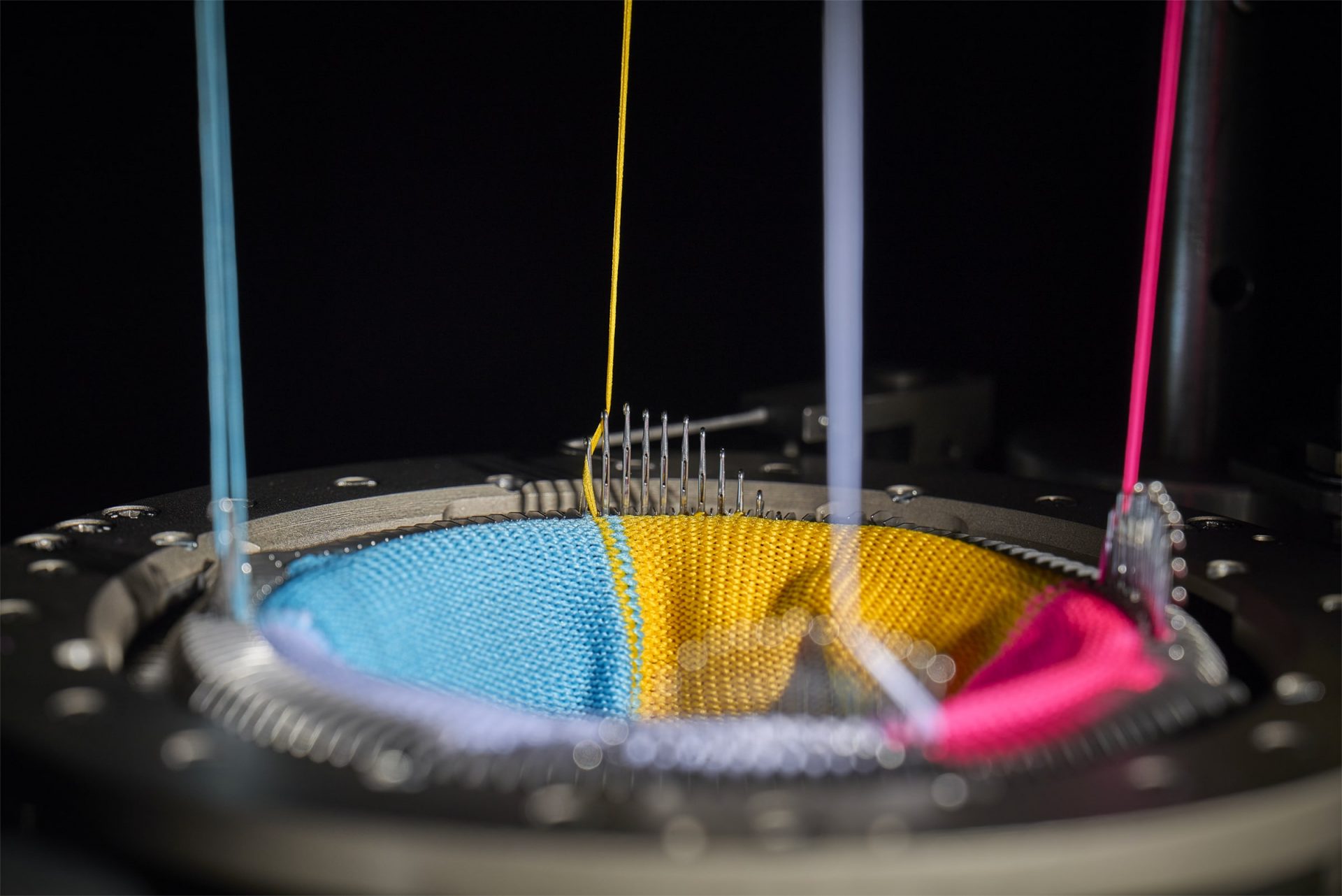 INNOVATION IN THE FASHION
AND DESIGN SECTOR
THE PARTICULAR FLEXIBILITY OF THE S1M ALLOWS THE ELABORATION OF CONFIGURATIONS IN REPLY RESPONSE TO THE CONTINUOUS PURCHASE REQUESTS
FROM INCREASINGLY GROWING AND MORE DEMANDING CUSTOMERS, CAREFUL TO QUALITY BUT ABOVE ALL AESTHETICS. THE MACHINE ALLOWS US TO RESPOND EVERY DAY TO THE BOOST NEEDS OF DESIGNERS, BY OFFE- RING THEM VARIOUS OPPORTUNITIES FOR PROCESSING THE FINAL PRODUCT. S1M GUARANTEES A RAPID PRODUCTION CYCLE WITHOUT WASTE, PROTECTING THE ENVIRONMENT AND RELAUNCHING ETHICAL FASHION AND ALL THANKS TO THE APPLICATIONS OF TECHNOLOGICAL INNOVATIONS.
THE FIRST CIRCULAR TRUE ARGYLE MACHINE
WITH A SUSTAINABLE FOCUS
THE S1M ELIMINATING THE WASTE OF MATERIAL IS A CIRCULAR MACHINE OFFERING 100% SUSTAINABILITY.
DUE TO ITS VERSATILITY THE MACHINE CAN PRODUCE UPPERS FOR ANY KIND OF USE, FROM THE TECHNICAL TO THE SPORTS AND FASHION SHOES FOR THE FREE TIME.
FLEXIBILITY
AND RESISTANCE
THIS MACHINE GIVES THE POSSIBILITY TO CREATE AN UPPER MADE BY INDEPENDENT AREAS, EACH ONE COMPOSED BY ONE OR MORE GARN WITH DIFFERENT CHARACTERISTICS IN FLEXIBILITY AND RESISTANCE, ACCORDING TO THE DESIRED FINAL EFFECT AND MATCHING UNLIMITED PATTERNS AND COLOUR COMBINATIONS.
DURING THE PRODUCTION PROCESS THE MACHINE CAN CREATE THREE-DIMENSIONAL AREAS, EYELETS FOR THE LACES FORMING A UNIQUE SHAPE WITH THE UPPER.
INDEPENDENT AREAS MADE
OF DIFFERENT YARNS
DURING THE MANUFACTURING PROCESS THE S1M CAN PRODUCE UPPERS WITH3D AREAS, HOLES, EYELETS AND LACES AT ONCE, WITHOUT ANY FURTHER CUT AND SEW PROCESS NEEDED.
4 feeds
Electronically controlled by "on board" computer
20 electro­pneumatic yarn fingers
Extra Rubber yarn finger with positive feeder electronically controlled by digital motor
8 groups of actuators for needle by needle selection
Check control for all function and feed­back trouble detection
Electronic size control (8 size)
Automatic machine resetting in 3 seconds
| | |
| --- | --- |
| DIAMETER | 4" |
| MACHINE GAUGE | 9 - 10 - 11 - 12 |
| FEEDS | 4 |
| NEEDLES | 108 - 120 - 132 - 144 - 156 |
| MAX SPEED | RPM 160 |
| | |
| --- | --- |
| DIAMETER | 4.5" |
| MACHINE GAUGE | 9 - 10 - 11 - 12 |
| FEEDS | 4 |
| NEEDLES | 120 - 132 - 144 - 156 |
| MAX SPEED | RPM 160 |